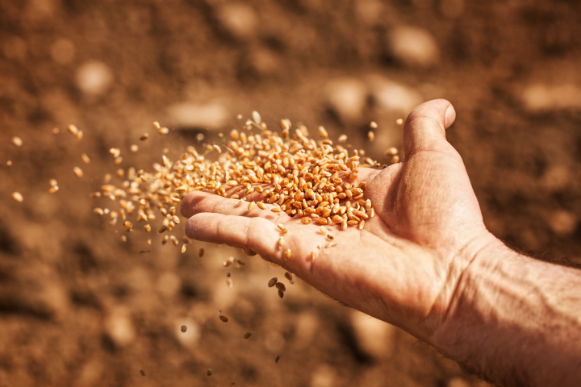 Agriculture is all about yield. It always has been and always will be. Global crop production varies as a function of many factors, and climate instability creates even more variability. Farmers must grow more with less to produce the food we all need, and to stay in business. It's that simple. We can help. In just two crops – corn and soybeans – increasing yield by 10% would create $30 billion of added value annually for farmers globally and feed millions in need. Yet, that kind of double-digit yield trait has eluded agricultural science so far. It's the toughest nut to crack.
We cracked it, and it could not have come at a better time.
Two decades ago, plant biologists at the University of Texas focused a family of well-understood genes in medical research called apyrases. They had a hypothesis that apyrases could play a significant role in plant growth. After decades of research, they proved their hypothesis – managing apyrase levels in plants can boost yield.
The decades of research and hundreds of studies into this gene family in plants found that specific apyrase genes:
Here's a quick overview for the more science-minded. Apyrases are enzymes that remove the terminal phosphate from NTPs and NDPs. In this role, they convert ATP to ADP and ADP to AMP. Cells export ATP as they grow. Maintaining the level of extracellular ATP (eATP) is crucial for sustaining growth.
Genetic and chemical evidence shows that certain apyrases hydrolyze ATP in the extracellular matrix or secretory vesicles that deliver ATP to the extracellular matrix. Through this function, apyrases can regulate the concentration of eATP.
Applying it to plant biology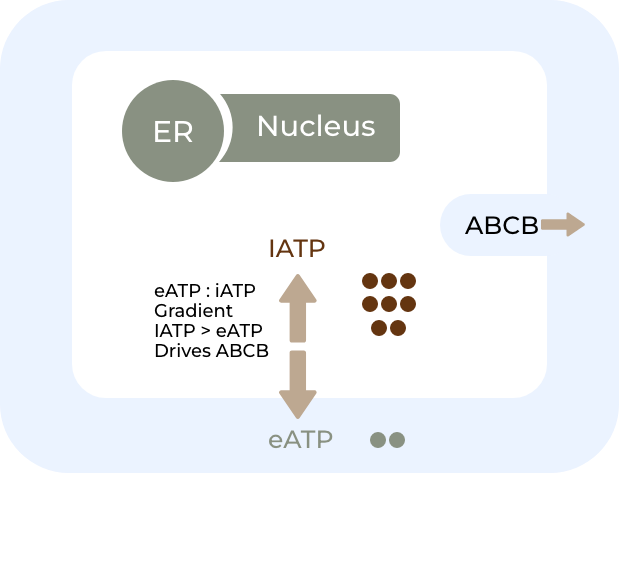 Extracellular ATP (eATP) is a key signaling molecule in plant growth and development. Low levels of eATP promote plant growth, while high levels retard it. Apyrase proteins regulate the level of eATP by removing the terminal phosphate group from NTPs and NDPs.
Increased Apyrase activity leads to various physiological changes, including increased transport of the plant hormone Auxin. This results in a more robust root system and increased absorption of critical plant nutrients such as phosphorous. These changes result in more robust plants with higher yield potential.
We know first-hand that yield traits are extremely complex and challenging. They don't often give consistent results. When they do, it's tough to expect more than single-digit yield increases.
Not here. Our yield trait has repeatedly and reproducibly demonstrated yield increases in corn and soybean of up to 34 percent. It specifically enhances:
Applying Learnings To Chemistry
Seeing what happens when we manage signaling pathways in plants made us wonder if we could also manage key pathways in plant pests like fungi and weeds. This led to a new hypothesis and more field studies. The field studies showed that our proprietary chemical enhancers, when combined with conventional chemical fungicides and herbicides consistently demonstrate increased fungicide and herbicide efficacy between 20 percent and 30 percent. We addressed the fundamental reason for the evolution of resistance to herbicides and fungicides in the process. Scientifically, here's why:
Many plant pathogenic fungi share a common method of cellular de-toxification, which relies on the activity of certain specific cellular transport mechanisms. Our chemical enhancers target those transporters and inhibit their activity, which increases the efficacy of the chemical actives.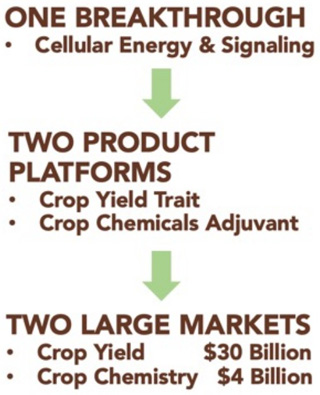 Want to really dig in? Read our peer-reviewed publications below.